We work to insure that the interests of the people of the Adirondack Park and their local governments are protected as the Adirondack Park Agency carries out its duties set forth in the Adirondack Park Agency Act, the Freshwater Wetlands Act and the Wild Scenic and Recreational Rivers Act. We believe, as a guiding principle, that people are part of the environment, rather than just a burden on the environment, and that their needs should be balanced in a fair manner with the protection of the natural resources of the Adirondack Park. We believe that the Adirondack Park should continue to be a multi-use park and that it should be accessible to all who work, live and visit the Adirondacks
We support the position of Adirondack local government, and user groups, that traditional uses, including hunting, fishing, trapping, snowmobiling, road side camping, ATV riding in suitable locations, and mountain bike riding should be allowed to be continued, because such uses are critical to the economic survival of many Adirondack communities.
The introduction to the Adirondack Park State Land Master Plan currently provides that "If there is a unifying theme to the master plan, it is that the protection and preservation of the natural resources of the state lands within the Park must be paramount." We support an amendment to the introduction to make it clear that the protection of natural resources on state lands should be sensibly balanced with the needs of residents for a strong economy.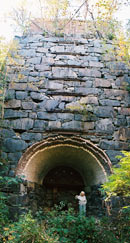 Historic Preservation
We support historic preservation in the Adirondacks. It has not been a focus as private lands have been converted to state forest preserve. Entire hamlets have been abandoned in the Adirondacks without so much as a historic marker to indicate their former location. This lack of attention to history adds to the creation of the false impression that the Adirondacks have always been wilderness without significant human occupation.
A historic classification has existed in the State Land Master Plan for almost thirty years. The APA has classified sites in only two of the 12 Adirondack counties as historic. We believe that there are locally significant historic sites in other counties that the Adirondack Park Agency should seriously consider for the historic classification.
We support the retention of historically important roads. Very large tracts of land with roads that have been town highways for more than 100 years have been classified as Wilderness in some towns. The roads are then blocked by the DEC, and declared closed, without any formal due process proceedings by town government. "Wilderness" is defined in the State Land Master Plan as "an area where the earth and its community of life are untrammeled by man * * * a wilderness area is further defined to mean an area of state land or water having a primeval character, without significant improvement…" We believe that 100 year old municipal roads are "significant improvements" and that they, therefore, should not be classified as "Wilderness".