Executive Director's Message
Hello, I am Gerald (Jerry) Delaney. Clinton County appointed me as their member to the Review Board in 2011. Shortly after that the Review Board appointed me as Chairman, a position I held until September 2018. On October 1st, 2018 I was appointed Executive Director of the Review Board.
The Review Board was created in the APA act to represent Local Government at the APA. It is my responsibility to attend APA meetings. The Review Board has a seat at the APA Board table, although we do not have a vote, we can comment on issues of importance to local governments. My other duties include the administration of the Review Board, preparing for the Board meetings along with outreach to the Local Government leaders in the Adirondack Park. Please feel free to reach out to me with any questions or concerns.
Sincerely,
Gerald Delaney, Sr.
Chair
Brian McDonnell owns an outdoor recreation business with his beautiful wife Grace in Lake Clear, New York.  He has lived, worked and played inside the Blue Line since graduating from THE Ohio State University with a degree in Labor and Human Resources.  He has raised four children in the Adirondack Park.  Brian has been active in local government for many years serving on the Harrietstown Council when residing in Lake Clear and on the Brighton Council when living on Easy Street in Paul Smiths.  He was active in the Adirondack Association of Towns and Villages while a Town Council person and has served on the Local Government Review Board for Franklin County for 10 years.  
Brian has served his community in multiple ways including the Saranac Lake Winter Carnival Committee, the Saranac Lake Youth Activities Program, the Saranac Lake Wild Forest Unit Management Planning Committee, the Saranac Lake Comprehensive Planning Committee, The Saranac Lake Destination Development Committee and the Franklin County Tourism Advisory Committee.
Brian's extensive recreation background includes managing a canoe rental and guide service for 40 years, teaching Outdoor Recreation and Leadership for students at North Country Community College, Nassau County Community College and Paul Smiths College;  Developing and managing The Dewey Mountain Recreation Center in Saranac Lake, Direction the transition of the Paul Smiths Visitor Interpretive Center from New York State to the College,  Creating and managing the Saranac Lake Summer Solstice Triathlon, and coordinating the Adirondack Canoe Race Series, including the 90 Mile Adirondack Canoe Classic for many years.
Vice Chair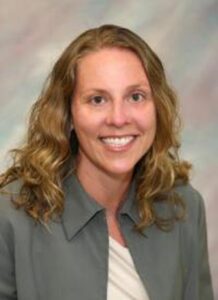 Carrie M. Tuttle
Vice Chair
Carrie M. Tuttle is a licensed NYS Professional Engineer and Certified Safety Professional with a Bachelor of Science in Civil and Environmental Engineering and a PhD and MS in Environmental Science and Engineering from Clarkson University. Dr. Tuttle also has a Master of Business Administration from St. Bonaventure.  She has over twenty-five years of engineering, project management and supervisory experience working in facility management, construction, manufacturing, and government arenas.  Dr. Tuttle has expertise in environmental engineering, project management, federal and state environmental/safety regulations and grant writing.  From September 2002, Dr. Tuttle has been employed with the Development Authority of the North Country and she resides in Cranberry Lake, St. Lawrence County.